Shop Our...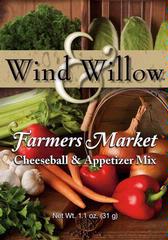 Savory Cheeseball & Appetizer Mixes
Price: $4.95

A delicious new twist on the old Southwest.

Price: $4.95

Fun and spicy Cajun flavor will have you kicking up your heels!

Price: $4.95

Flavors of a South of the Border Cantina. Enjoy as a cheeseball or sprinkle over fajita meat and vegetables. Topped with Herb & Tomato Topping.

Price: $4.95

Smokey bacon and cheddar cheese make this a fan favorite!

Price: $4.95

A great Cheeseball, of course! But also the base for fabulous appetizers and entrees.

Price: $4.95

A little heat. A little sweet. And a whole lot of fun!

Price: $4.95

Old world flavors combine to make this a modern classic.