Valentine's Day
Start the day off right by surprising your sweetheart with Triple

Berry French Toast Bake.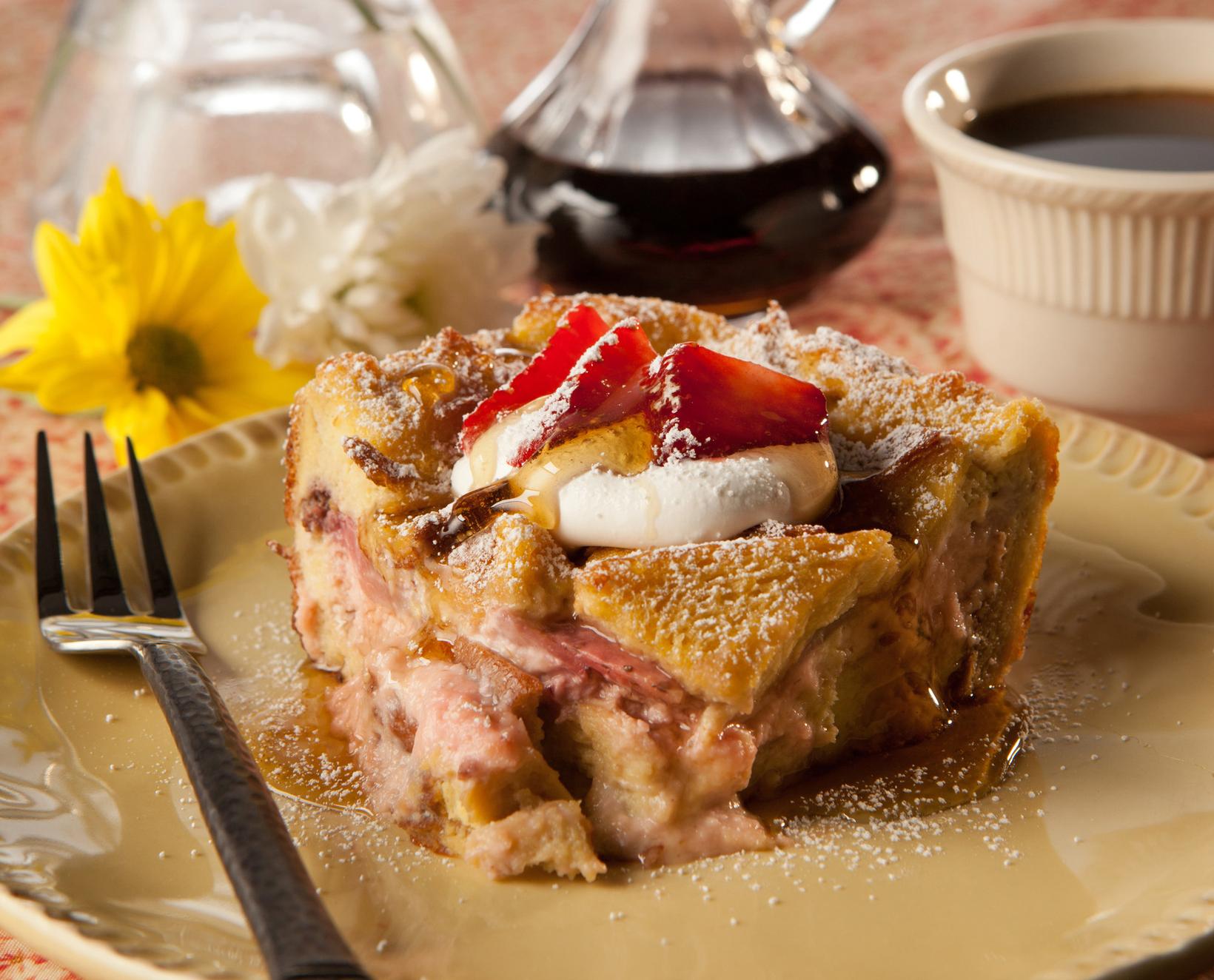 Wind & Willow Triple Berry Twist Cheeseball & Dessert Mix
12 slices home-style white bread, cut into cubes, divided
2 (8oz) pkgs cream cheese
1 1/2 cups strawberries, sliced
2 cups half & half
12 large eggs
1/2 cup maple syrup
Combine Cheeseball Mix with cream cheese and mix until smooth. Set aside. Grease 9 x 13" baking dish. Layer 1/2 of bread cubes, spoon on 1/2 cream cheese mixture, strawberries, remaining bread and the rest of the cream cheese mixture. Beat together (or put in blender) half & half, eggs and maple syrup until smooth. Pour evenly over ingredients in the dish. Cover with foil and refrigerate 8 hours or overnight. Set out for 45 minutes prior to baking. Preheat oven to 350 and bake for 30 minutes. Remove aluminum foil and continue baking until French toast is puffed and golden brown, about 30 more minutes.
Tip: Garnish with maple syrup, powdered sugar and contents of topping packet. Serve!
For dinner, put together a quick and delicious meal with Wind & Willow.
White Chicken Enchiladas is a delicious easy-to-make dinner.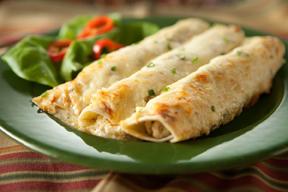 Wind & Willow Jalapeno Jack Cheeseball & Appetizer Mix
8 - 8" Flour tortillas
2 cups Cooked, shredded chicken
2 cups Monterey Jack cheese
8 oz cream cheese
3 Tbs butter
1 Tbs flour
1 cup heavy cream
1 cup sour cream
Preheat oven to 350 degrees. Grease 9x13 pan. Mix WW Cheeseball Topping pkg (Mix pkg used later), chicken, 1 cup cheese and cream cheese. Roll up in tortillas (approximately 1/3 cup each) and place in pan. In a sauce pan over medium heat, melt butter, stir in flour and cook 1 minute. Add cream and Jalapeno Jack Mix, bring to a boil to thicken. Remove from heat and stir in sour cream until smooth. Pour mixture over tortillas and bake 10 minutes or until center is hot. Remove from oven and top with remaining cup of cheese. Return to oven and cook for approximately 5 minutes or until cheese is melted and begins to brown. Serve hot!
Lemon Cheesecake Dessert Wontons are the perfect way to finish.
Light, elegant and simply delicious!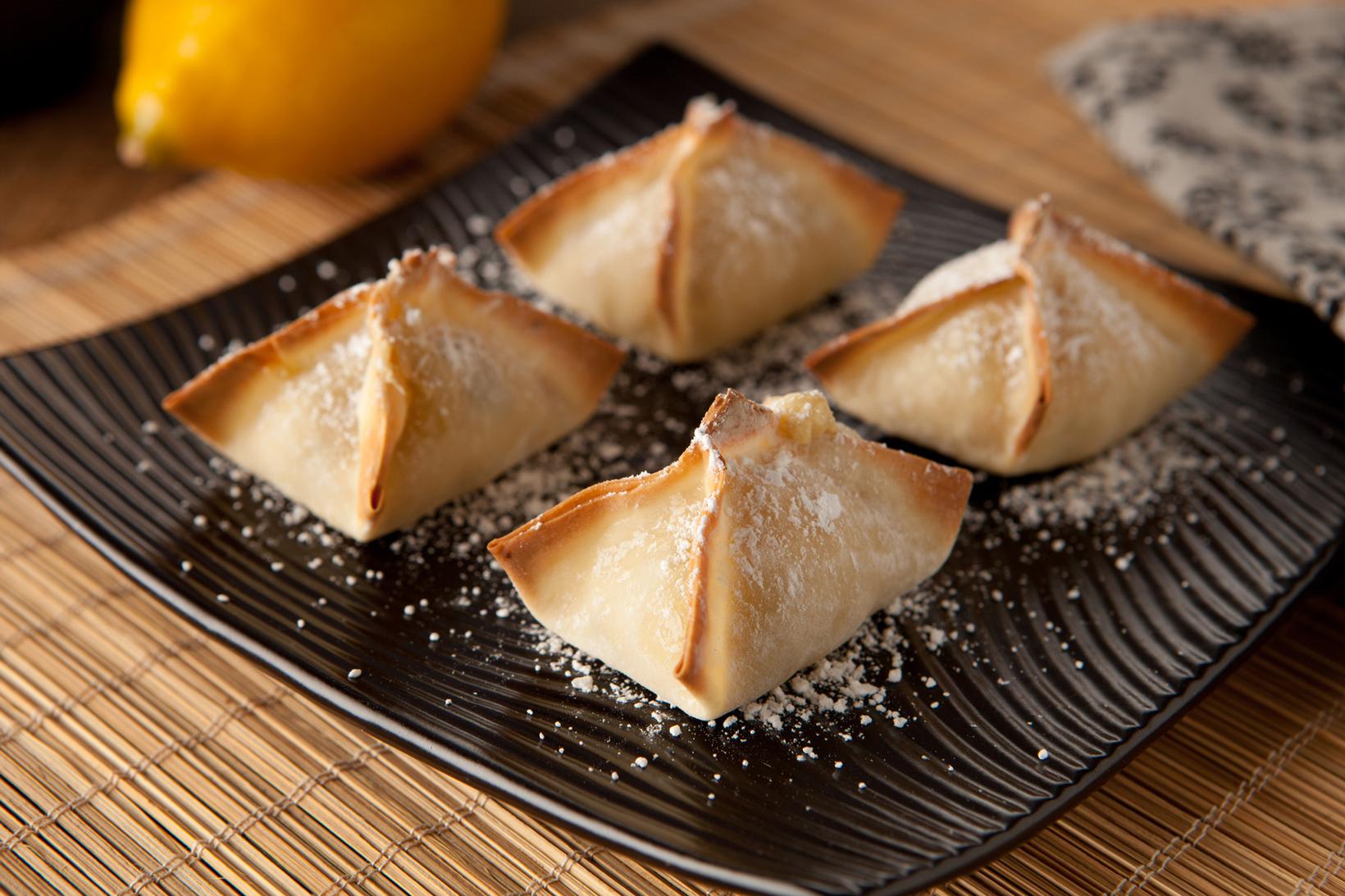 Wind & Willow Lemon Cheesecake Cheeseball & Dessert Mix
8 oz cream cheese
1 pkg wonton wrappers
Pre-heat oven to 415 degrees. Line a baking sheet with foil and spray with cooking spray. In mixing bowl combine Cheeseball Mix and cream cheese; mix until smooth. Lay a wonton wrapper on work surface. Place about 1 1/2 teaspoons of the filling mixture in the center of the wrapper, brush the edges of the wrapper with water. Fold corners of wrapper over the filling. Pinch all four corners together to seal the wrapper tightly. Place on baking sheet, spray the tops of wontons with cooking spray. Bake for about 10 minutes or until golden brown. Sprinkle with Topping packet to garnish.
Tips:
-Do not overfill wrappers with Cheeseball mixture. Wonton wrappers need to be completely closed.
-You can use other flavors of Wind & Willow mixes. Try White Chocolate Amaretto or Snickerdoodle!