Featured Product of the Month
Smokey cheddar and bacon flavors
make this a fan favorite especially with the guys!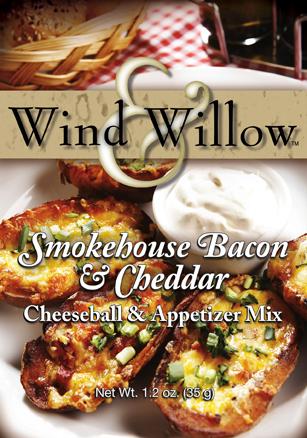 Try these quick and easy serving suggestions:

-Add dry mix to your favorite potato salad to give it a yummy bacon and cheddar flavor.

-Add dry mix to lots of other recipes like pasta salad, scalloped potatoes, and even scrambled eggs.
We'd love to hear how you use Smokehouse Bacon & Cheddar Mix at your house!

Even sleepy heads will wake up for this breakfast.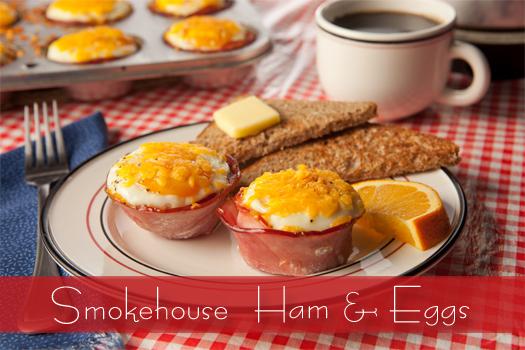 Wind & Willow Smokehouse Bacon & Cheedar Cheeseball Mix
8 oz. cream cheese
12 slices of thick sliced ham (or 24 slices of deli ham)
12 eggs Shredded cheddar cheese
Preheat oven to 350 degrees. Combine Cheeseball Mix with cream cheese until smooth and set aside. Spray muffin tin cups with cooking spray. Fold a slice of ham in half and line each baking cup, ruffling the slices into the muffin cup and up the sides to make it fit. Spoon approximately two teaspoons of Cheeseball mixture onto ham in each cup. Crack one egg into each muffin cup. Sprinkle with shredded cheese. Bake for 10-12 minutes, or until white appears cooked.
Tips:
- If using deli ham line each muffin cup with two slices of ham.
- Top with chives for a colorful garnish.

Flavors of a loaded potato with bacon
and smokey cheddar!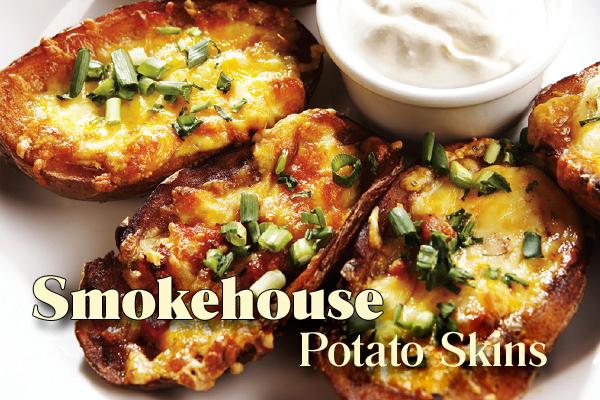 Wind & Willow Smokehouse Bacon & Cheddar Cheeseball Mix
4-6 medium potatoes (baked)

8 oz. cream cheese
4 Tbs. butter
1 cup shredded cheddar cheese
Cut in half lengthwise and scoop out the inside, leaving the skin and about 1/2 inch thickness of potato. Preheat oven to 400 degrees. Combine cream cheese, butter, and Smokehouse Bacon & Cheddar Mix. Mix until smooth. Add potato. Mix together and spoon into potato skins. Sprinkle with cheddar cheese and Bread Crumb Topping. Place in baking dish and bake until warm and mixture begins to brown.
Options: Top with chives, black olives and bacon crumbles for added flavor.
The family will love this quick dinner idea...
loaded baked potatoes!
Prepare Cheeseball Mix as directed. Top baked potato with prepared mixture
and load with your favorite toppings like sour cream,
shredded cheese, bacon, chives and sprinkle with Topping packet.