Shop Our...
Featured Product of the Month
A delicious new twist on the old Southwest
with a subtle blend of Southwest flavors.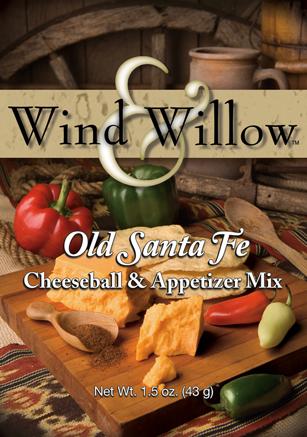 These are so addictive and great on the grill too!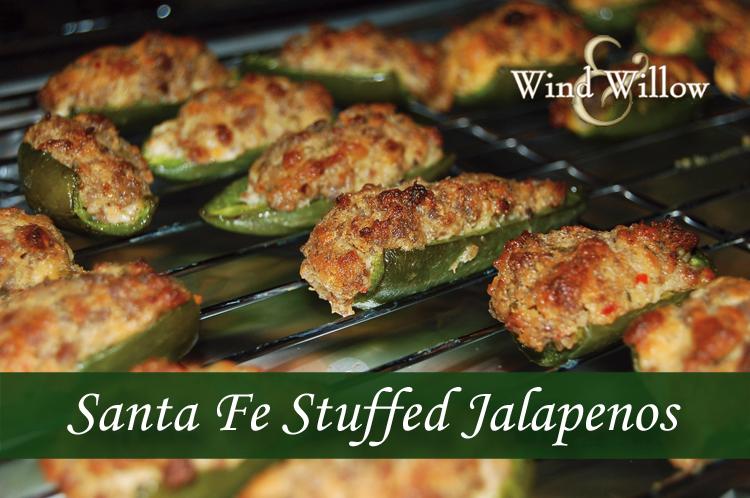 Wind & Willow Old Santa Fe Cheeseball & Appetizer Mix
1 lb. ground pork sausage (mild or hot, depending on preference)
12 oz. cream cheese
1 - 1 1/2 lbs. large fresh jalapeno peppers, halved lengthwise and seeded*
Preheat oven to 425 degrees. Cook sausage in a skillet until done. Drain and crumble. Mix softened cream cheese, Old Santa Fe Cheeseball Mix and Pepper & Onion Topping. Stir in cooked sausage and refrigerate until firm. Spoon about 1 Tbsp. of the sausage and cheese mixture into each jalapeno half. Place stuffed jalapenos directly on cookie sheets, or on wire racks set on cookie sheets. Bake for 12 minutes or until stuffing begins to brown. Serve immediately. Even better served with Wind & Willow Back at the Ranch Dip! Simple, delicious, and addictive!
*Tip: It's best to wear gloves when handling peppers. Jalapenos can be stuffed and refrigerated for up to 24 hours before baking.
The perfect dish for your 4th of July BBQ and it
only takes 5 minutes!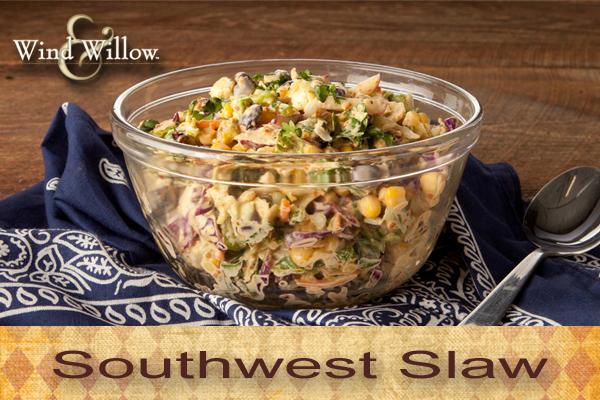 Wind & Willow Old Santa Fe Cheeseball & Appetizer Mix
1 bag Coleslaw salad
1/2 cup real mayo
1/2 can black beans
1/2 can corn
In a large mixing bowl combine Cheeseball Mix and topping packet with mayo and coleslaw until well combined. Fold in black beans and corn. Serve!
Tips: - Squeeze in fresh lime for extra zesty flavor! - Make fish tacos with this slaw by baking any white fish serve in a tortilla and top with the slaw.
Kick up your Mac 'n' Cheese with this delicious recipe!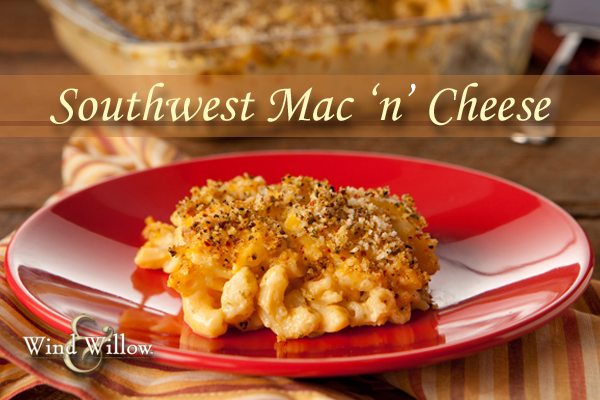 Wind & Willow Old Santa Fe Cheeseball & Appetizer Mix
8oz. dry elbow pasta noodles
4 Tbsp. butter
1/4 cup all purpose flour
2-1/2 cups whole milk
1-1/2 cup shredded Cheddar cheese
1-1/2 cup shredded Monterey jack cheese
2 oz. cream cheese, softened
1 Tbsp. butter, melted
1/2 cup plain panko bread crumbs
Preheat oven to 350 degrees. Then cook pasta as directed. Meanwhile in a separate large pot over medium heat, melt butter. Remove from heat and whisk in flour until smooth. Place back on medium-high heat, slowly whisk in milk and bring to a boil while continuously whisking. Reduce heat and stir in Cheeseball Mix, Cheddar, Monterey Jack and cream cheese until melted and smooth. Stir in cooked elbow noodles. Pour mac and cheese mixture into a greased 8x8" casserole dish. In a medium bowl, combine the melted butter and bread crumbs. Sprinkle crumbs and Topping Packet over top of mac and cheese. Bake for 20 minutes or until cheese is bubbly and crumbs browned. Enjoy!
Tip: - Add cooked chicken to turn this side dish into a meal!
A delicious change of pace for your side dish.
You won't be able to stop eating them!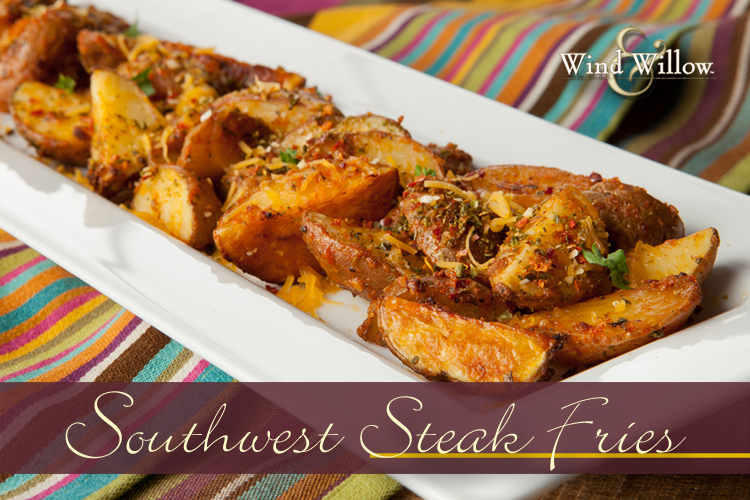 Wind & Willow Old Santa Fe Cheeseball & Appetizer Mix
1 lb. new potatoes, washed and cut into wedges or chunks
1-2 Tbsp. olive oil
1/4 cup shredded sharp Cheddar cheese
Preheat oven to 425F. Line a large baking sheet with tinfoil and spray with non-stick cooking spray. Place potatoes in a medium bowl, pour in Cheeseball Mix (Topping packet used later), drizzle with olive oil and stir. Make sure potatoes are coated well. Spread potatoes in a single layer on cookie sheet and sprinkle with Topping Packet. Bake in oven 10 minutes. Remove from oven, sprinkle with cheese and bake for two more minutes. Return to oven until cheese is melted. Serve warm!
Tip: Garnish with Cilantro or your favorite herbs.