Shop Our...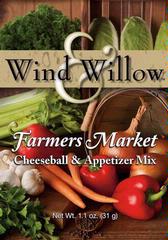 Dip Mixes
Price: $4.25

A classic mix you will want to keep on hand. A wonderful dip and base for sauces.

Price: $4.25

You've had ranch dips before you say? Try ours, and you'll wonder! Best ranch dip ever!

Price: $4.25

CURRENTLY OUT OF STOCK.

Give your next salad or fresh veggies some real zing with this zippy new dip from Wind & Willow!

Price: $4.25

The taste of your favorite buffalo chicken in a dip! A savory and spicy dip that conjures up thoughts of tailgating and BBQ's.


Price: $4.25

Two great flavors combine for savory satisfaction. One of our favorite dips also makes a great sandwich spread.

Price: $4.25

THIS ITEM IS CURRENTLY OUT OF STOCK.

Smokey spices come together to make this a delicous creamy dip.

Price: $4.25

Can a dip say "fresh"? You'll think you heard it when you take a bite! Wonderful as a dip or a dressing for a fresh veggie and pasta salad.

Price: $4.25

Just the right amount of spice to make this one fun dip. Perfect with crackers or tortilla chips or to add a little zip to tacos.