Shop Our...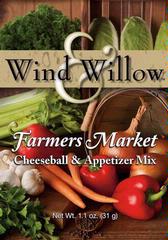 Roasted Red Pepper Dip Mix
Price: $3.82
OUR FEATURED PRODUCT OF THE MONTH!
Price reflects 10% discount off the regular price. Get a free recipe card with purchase and see new recipes every week this month on our facebook page, facebook.com/windandwillowfoods. More tips and ideas on our web site www.windandwillow.com
A fan favorite dip with a ton of flavor. Also makes an outstanding burger topper! Click 'view recipe' below to see burger topper recipe.